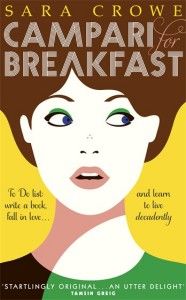 ★★★ (3 stars)
Synopsis from Goodreads: In 1987, Sue Bowl's world changes for ever. Her mother dies, leaving her feeling like she's lost a vital part of herself. And then her father shacks up with an awful golddigger called Ivana. But Sue's mother always told her to make the most of what she's got – and what she's got is a love of writing and some interesting relatives. So Sue moves to her Aunt Coral's crumbling ancestral home, Green Place, along with a growing bunch of oddballs and eccentrics. Not to mention the odd badger or two . . . There she fully intends to write a book, fall in love, and learn to live decadently.
Why did I read this book?
I heard it was told, at least partly, through diary entries and that's enough to sell a book to me. The "crumbling old country house" setting also appealed.
Favourite thing about the book:
Its setting. The country mansion felt very real to me; and whenever I've visited such places that have been opened to the public I've always wondered what it was like for the last family members to live there (usually in the 1970s or 80s) and although Sue's family manage to hold onto the house Campari For Breakfast does answer the question of what life in a stately home in the late twentieth century was like.
Other positives:
+ As a whole, the plot wasn't too predictable (though the "love story" aspect was rather).
+ Despite the above, I did enjoy following the development of the romantic plotline.
+ Sue's bereavement was well-handled – realistic but without becoming too bleak as the rest of the novel lightened the atmosphere.
Least favourite thing about the book:
There is something a bit cliched about the "load of eccentrics in big old house" storyline and although it's a trope because people (including me) like to read about it I got the impression that Campari For Breakfast felt itself to be more original than it was.
Other negatives:
- Sue's sections have spelling mistakes in which are supposed to reflect her true voice but which I found annoying, especially as they weren't frequent enough for me to be sure at first if they were intentional or the result of a proof-reading error.
- The extracts of Sue's creative writing were dull and cringeworthy – I had to force myself to read them and even now can't remember what they were about. (They reminded me a of a cross between the fanfiction sections in Rainbow Rowell's Fangirl and Adrian Mole's Lo! The Flat Hills Of My Homeland.)
- Sue's obsession with "romance" got a little tedious.
- Coral's diary extracts were initially a bit boring to read but became less so as time went by and the point of their inclusion became clear.
Favourite character:
Sue, though I liked Coral a lot too.
Least favourite:
Icarus.
I recommend this book to:
~ Fans of Dodie Smith's I Capture The Castle.